SymQuest Appoints New President
Wednesday, March 22, 2017 (0 Comments)
Posted by: Jeff Couture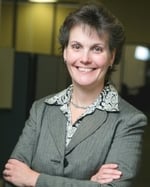 SymQuest Group, Inc., a wholly-owned subsidiary of Konica Minolta Business Solutions U.S.A., Inc., and regionally based IT services and office technology provider, is pleased to announce the appointment of Meg Fleming as President of SymQuest effective April 1, 2017. Fleming will succeed Co-Founder, and acting President and CEO, Larry Sudbay, after 21 years of service with SymQuest.

"I am very excited to announce Meg's new role in our organization.Throughout her 25 year tenure with first McAuliffe Office Products, then SymQuest, Meg has shown exemplary leadership among her peers. Her ability to problem solve and manage large scale strategic objectives has shaped her skillset as an executive," says SymQuest President and CEO, Larry Sudbay. "In addition to her professional leadership, her vision for client service delivery excellence will serve SymQuest well in the years to come."

Prior to her appointment as President, Fleming served in various positions within the company including: Chief Operating Officer, Client Support Manager, Service Manager, Director of Service and Regional Director of Sales. In addition to her professional experience, Fleming believes in giving back to the community. Fleming has previously held positions as Board Member for the St. Michael's College Alumni Association, Board Member for the Girl Scouts of the Green and White Mountains, and acting Co-Chair of the Cambridge Conservation Commission – among other service activities.

"I am honored to serve SymQuest as President. Our organization is comprised of exceptional employees focused on providing an outstanding customer experience to our clients," says incoming President, Meg Fleming. "I believe our next step as an organization will be to innovate the way companies do business by providing solutions that bolster efficiencies and cost recovery through automated workflows, connected devices, and cloud services."

Fleming will be responsible for all departments and strategic initiatives throughout SymQuest's nine office locations; and will be based in SymQuest's dual-headquarters, located in South Burlington, Vt. and Westbrook, Maine.